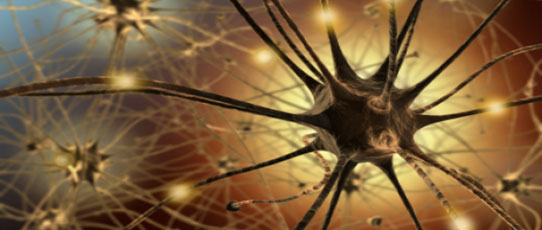 Definition, etiology, classification, diagnostication, treatment
Neuromuscular diseases are a groups of diseases of skeleton muscles and joint nerves (motor, sensor), during which primary pathological process takes place directly in muscle, or nerve. At this, central nervous system is not damaged. Neuromuscular diseases which hold a significant place in clinical neurology are also known as diseases of peripheral nervous system.
Classification of neuromuscular diseases is conducted according to anatomic expansion of the pathologic process. Pathologic changes are registered in:
Cross-striated muscle (muscular dystrophy, congenital myopathy, metabolic and inflammatory myopathies);
Motor cell located in spinal marrow (spinal muscle dystrophy);
Nerve (hereditary polyneuropathy, inflammatory neuropathy);
Synapse – in the place of impulse transfer from nerve to muscle (myasthenia, syndrome of congenital myasthenia, neonatal myasthenia).
1. Muscle Dystrophies – the most frequent forms are Duchenne's and Becker's muscular dystrophies which are caused by lack or considerable decrease of dystrophin protein in muscles. Pathological process extends to muscle fiber, while motor nerve cells located in spine marrow, nerves and endings outgoing from spine marrow are not damaged. This disease is found among boys and is characterized by genetic transmission. Duchenne's disease starts before the age of 5. First signs are difficulties in climbing the stairs and getting up from the floor.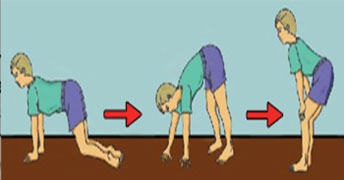 Walking takes waddling form. Enlargement of shin muscles is characteristic. Contractures are developed in shin and shank vessels. At the age of 8-12 patients lose the skill of walking independently. Treatment with corticosteroids prolongs the ability of walking independently for 3-4 years. A big part of patients show mental problems, cardiomyopathy.
Becker's muscular dystrophy starts later, after the age of 8-10. Clinical signs are the same as during the Duchenne's dystrophy. Patients having this form of the disease preserve the ability to walk independently for a longer period of time.
Diagnostics: assessment of muscle ferment creatine kinase in blood – significantly increased in both forms.

Electroneurogram research – myopathic recording. Genetic research
Muscle biopsy.
Treatment basically based on preserving functional independency and life quality. Physical therapy is aimed against development of contractures and scoliosis. Use of orthosis and timely surgical operation on sinews improves walking. If necessary, electrocardiographic and echocardiographic monitoring is conducted. To avoid breathing insufficiency caused by weakness of respiratory muscles patient must undergo spirometry – evaluation of inhaling-exhaling. If necessary, auxiliary ventilation must be applied.
Concomitant myopathies – it is revealed during infancy or early childhood by general weakening of muscles. Typical for this type of disease are histochemical and ultrastructural changes of muscles, slow progress. Such clinical signs as lowered eyelids, cardiomyopathy are important. Classification of concomitant myopathies is based on genetic and morphological changes. According to it the following myopathies are distinguished:
With protein accumulation;
Myopathies with axis;
Myopathies with central nucleus;
Myopathies with changes of fiber size;
Diagnostics – in the majority of cases creatine kinase is normal;
Electroneuromyographic examination has normal results.
Diagnosis is identified via muscle biopsy.
Treatment is basically based on rehabilitation with the main aim of preserving functional independence and life quality. It is important to constantly evaluate respiratory system, scoliosis and ability to walk independently.
2. Spinal muscular atrophy is a hereditary progressive disease of motorneuron (moving cells) located in spinal marrow, with muscular weakness. It is caused by slow degeneration of these cells.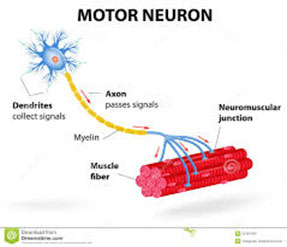 3 main types of this disease are defined:
Werdnig-Hoffman disease is usually identified in the first months of life. Child has difficulties holding head, crying and coughing is weak. Often delays during feeding are characteristic. Weakness of respiratory muscles is manifested. By the age of 7-8 months child can't sit independently.
Childhood intermediate form – weakness is developed comparatively late. Independent sitting is possible, vessel contractures are developed, feeding delays happen.
Kugelberg—Welander disease is characterized with late beginning. Patients can walk independently. Scoliosis, difficulties of swallowing and coughing take place. Symmetric weakness of proximal muscles is characteristic. Disease is progressive, its speed decreases with age.
Diagnostics is based on:
Electroneuromyographic examination – neurogenic record;
Evaluation of creatine krenase in blood;
Genetic research – deletion test.
Care and treatment of patients with Werdnig-Hoffman disease includes tracheostome, auxiliary ventilation and feeding with tube. In case of other forms, treatment is symptomatic and aimed at prevention of deformation of spine and lower extremities.
Timely recognition and correct management of these diseases is important.
3. Peripheral Neuropathy: pathological changes can damage nerve fibers in extremities (motor and sensor). Depending on how many nerves and which anatomical part of the nerve is damaged,
Peripheral neuropathies are divided into the following types: polyneuropathy, mononeuropathy, mononeuritis multiplex, radiculopathy, polyradiculopathy, plexopathy (side, waist).
The most frequent degenerative disease of peripheral nervous system is peripheral motor and sensor polyneuropathy which is known by the name of Charcot-Marie-Tooth. Degenerative changes develop in nerves located in extremities, causing complication of walking, often fall, muscle atrophy and later foot deformation which is selectively characteristic for this disease.
Classification is based on type of damage spread and hereditary transmission form. Development of molecular genetics made it possible to define several types of hereditary motor and sensor neuropathy.
Diagnosis is based on electroneuromyographic examination (fall of electrical impulse speed is characteristic). For undefined cases molecular-genetic examination is also conducted.
Treatment is based on team monitoring of various specialists (physical therapist, occupational therapist, orthopedist, neurologist), rehabilitation, prevention of contractures. In case of fixed contractures surgical treatment is applied.
4. Myasthenia – the most frequent disease of neuromuscular synapse among children which is autoimmune. It is caused by reduction of impulse receiving receptors in synapse – place where impulse is transferred from nerve to muscle. Receptor reduction is caused by antibodies with unknown etiology generated in the organism. Symptoms are revealed after the age of 1. Patients show weakness, grow tired easily, especially in the afternoon, have complications in chewing and swallowing. Lowered eyelids, seeing double. During generalized forms of myasthenia weakness is spread to extremities muscles as well. Connection of myasthenia with other autoimmune processes is determined – pathologies of thyroid gland and disease of thymus (thymoma). Gravity of disease is revealed on comparatively early stage of disease. Myasthenia has a separate classification of clinical forms (Oserman's classification).
Diagnostication is based on revealing antibodies in blood against acetylcholine receptors and electroneuromyographic examination (existence of decrement upon repeated stimulation).
Treatment: mainly drugs with acetylcholinesterase (neostigmine, pyrodostigmine) are used, as well as plasmapheresis and intravenous antibody, immunosuppressive agents. In certain cases excision of thymus takes place.